Is the LGBTQ+ Pride flag used commercially as a means to gentrify cities, or does it celebrate diversity? Regardless of whether you see the cultural appropriation of the LGBTQ+ Pride movement for commercial use as something positive or something negative, some urban theorists have actively encouraged creating a space that will attract LGBTQ+, with the intent of gentrifying the area.
One notable example is American urban studies theorist Richard Florida, who has argued in his book 'The Rise of the Creative Class' (first published 2002 – his earlier work began in the 90s), that the higher the 'bohemian' and 'gay' population in a city, the more the city will attract 'talent' or high-tech workers, to create economic prosperity in the form of a 'creative class.'
Richard Florida's ideas has received much critique, particularly from those who argue that his simplistic model of how to build a creative economy through social amenities such as cycle paths, trendy office spaces and an increased 'tolerance' of Gay and immigrant communities, is a simplistic look at something that ignores the importance of structural and economic support, rather than focusing on the immediate aesthetic gratification of 'creativity' on the street and in the work place:
'Florida's ideas are breathing new life into an old argument: that taxes, incentives, and business-friendly policies are less important in attracting jobs than social legislation and government-provided amenities. After all, if New York can flourish with its high tax rates, and Austin can boom with its heavy regulatory environment and limits on development, any city can thrive in the new economy.' (Malanga, S, 2004).
Florida's 'Gay Index'
Even now, nearly 10 years after the first publication of Florida's book 'The Rise of the Creative Class,' I would argue this cultural appropriation of 'bohemian' lifestyle, and what Florida describes as 'gayness' from the 'Gay Index' (that he saw as a key indicator of how 'prosperous' a city was, depending on its 'tolerance' levels), is still happening, in the form of large companies and retailers co-opting the LGBTQ+ Pride flag into their logos, packaging and shop fronts.
Florida initially created the context of the 'Gay Index' when:
'In 1998, he met a Carnegie Mellon graduate student, Gary Gates, who was tracking U.S. gay communities using Census Bureau statistics on unmarried same-sex households. In what he describes as a major revelation, Florida noticed that Gates's list of America's most gay-friendly cities closely matched his list of hip technology centers. Looking for other ways to measure the distinguishing characteristics of the new-economy cities, Florida developed a so-called Bohemian Index, which counted the number of artists, writers, and performers in a city.' (Malanga, S 2004)
I would argue that the issue of taking a metaphorical crayon and drawing circles around cities that are 'Gay' and aren't 'Gay' is that this relies on statistics that aren't even rooted in people officially 'coming out' as gay – it's purely based on data from the census bureau of those living in unmarried same-sex house holds (Malanga, S 2004), which may literally just be flatmates or friends. I would also argue that even if it was from statistics that were from people that said they were 'gay,' that would be relying on people actively 'coming out,' which not everyone may choose to do, and the results may have been difficult to gauge either way. I would argue 'Gayness' is not a geographical phenomenon. And just because you're unmarried and living with someone that's this same sex as you, this does not make you 'gay' by default.
It's hard not to write about this without wanting to self-implode, but I'll continue.
The issue with the way Florida writes about groups such as 'Gay' people, 'migrants' and 'bohemians' is that he describes them moving around the map like lego pieces. The fact is, gay people and people with different nationalities did exist before Richard Florida. He talks about the creation and socially engineered attraction of 'diversity,' but actually I would argue, in a city, diversity will organically already be there. By forcefully creating the act of gentrification through staged creativity and targeted social amenities, this historically has forced many people out, unfortunately reducing the amount of diversity, not increasing it.
The commercial use of the Pride flag
On the one hand, you could look at the use of the Pride flag colours by large companies as something that's happened on an individualistic level, with each brand benefitting economically from this cultural appropriation, and on another level, from a city planning perspective, you could argue that this wave of LGBTQ+ Pride flag used in advertising, is actually planned. It could be seen as a wider plan to gentrify an area, alongside the commission of certain street art, and the opening of certain shops and restaurants.
Along the Richard Florida 'Gay Index' line of thinking (who knows what books the city planners were reading on that particular afternoon), it could also be an attempt to bring in 'prosperity,' to attract the 'Gayness' that's required to make everything in the economy ok again. Along Florida's line of thinking, isn't it just great when gay people feel they can be gay, and the issue of inter-sectional identities in the area is just solved? In theory it's a socially engineered melting pot of gay and migrant tech-buffs, but in reality it's just a cycle route and a pop-up street market where you can buy gluten free focaccia, and in 6 months time, you can't afford the rent anymore.
Why am I concerned about the commercial appropriation of the Pride flag in the context of LGBTQ+ issues? Well, I'll now talk about how the meaning of creativity has in some ways changed in the City of Bristol, for example.
In Bristol, UK, where I'm based, despite it being known as a 'creative city,' before the pandemic, it was becoming increasingly difficult to find space for creativity (e.g. dance, art studios, rehearsal space etc). This could also be epitomized by the recent attempted sell-off of art and cultural centre Hamilton House (something which I will go into more detail about in another blog). However, the amount of new trendy office space and apartments is frequently popping up in Bristol all over the place. This is all sounding very 'Richard Florida,' isn't it? By 'creativity,' does he actually just mean turning everyone into an 'office monkey'?
How has 'creativity' been used to pacify, not to empower?
Perhaps to some people, by 'creative,' they now actually mean that grass-roots art and culture is now so commodified that creativity is now for profit only, the community part is now being closed, sold off, 'history'. You can just look at the paintings on the wall instead, like a museum, which incidentally, due to budget cuts, will probably be closed soon.
Rather than a celebration of creativity, perhaps (in some instances) the installation of street art representing 'progress' is possibly serving the purpose of the illusion that it'll be existence for any length of time. In reality, with the pattern of privatising many social spaces, and the rising house prices, it lacks the infrastructure to keep it there.
Psychologically, it could be argued that 'staged' creativity does also change what 'creativity' might mean, in some contexts. Based on Richard Florida's understanding, it's a lot easier to work in a tech job for a large firm, for example, if you've got an adult-sized slide and ball pit in the centre of your office space – a tokenistic gesture to the freedom that you once felt, before you chose Florida's version of a 'bohemian' lifestyle.
A bit like if you see an old local 'bakery' sign carved in stone, above a large chain supermarket. It's nice that it was there once, wasn't it?
I suppose I'm writing this, because I'm concerned about the commercial use of the LGBTQ+ Pride rainbow flag, and where this saturation of its use on the packaging and logo of day-to-day items, risks the message being lost, if it's not used sincerely, by people that genuinely support the LGBTQ+ cause.
The commercialisation of Pride month in June
Is Pride month in June becoming so commercial, it's beginning to look a lot like Christmas (i.e., a rush to buy things)? In December in the UK it's hard not to buy even a loaf of bread from a supermarket without a snowflake on its packaging… does anyone remember a time when the Christmas break was just about spending time with family and friends, not panic buying, and eating dust in January to make-up for the expenditure?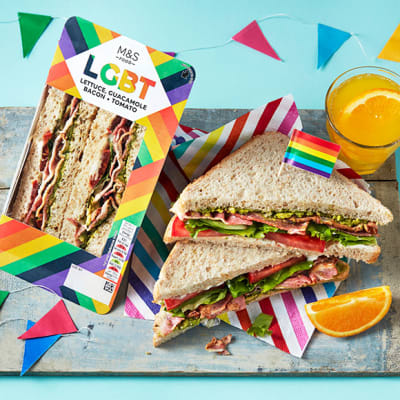 Arguably, if used too casually as a knee-jerk reaction, companies could end up using the LGBTQ+ Pride flag as an indicator of what they're 'not' (i.e., homophobic), rather than what they 'are,' (i.e. actively finding ways to create structural and long-lasting change and support for those that identify as LGBTQ+).
I don't think the LGBTQ+ Pride flag should be used commercially as a 'quick fix,' or a sales reminder to customers to buy into 'supporting the gay communities' in June. I think it needs to be used actively and appropriately, as an emblem of genuine support. I also think it's very possible for large companies to support the LGBQT+ community, without simply cashing in on the Pride flag, or worse, co-opting it as their own brand.
It's got to the point where it's almost like companies are guilt tripping you for not 'supporting the gays,' if you don't buy 'rainbow' products in the month of June.
If you don't buy other people chocolate at Easter, that basically makes you a mean person. Or maybe this idea has been culturally implicated, and you don't have to do anything at all. Who's the easter bunny again? New life? What's that? Spring time? I don't get it.
To break it down, from a commercial perspective, Christmas = over spending, Easter = over-eating, and now June = rainbow clad merchandise from transnational cooperations, and maybe a medium-sized concert with artists who were in their prime in the mid-90s, to 'support the gays.'
I've got nothing against Pride events in anyway, shape or form, but I think it's always about the people, and its always about supporting LGBTQ+ causes, its never about the transnational companies reminding you to buy their stuff. This is just my opinion.
LGBTQ+ rights… or is the rainbow commercialised now to just meaning 'nice'?
Recently, I've noticed an increase in merchandise with the rainbow symbol or colours with 'be kind' written below, which particularly took off during the pandemic. I'm not sure of this design's origins. However, what I'm concerned about is that the true message of the LGBTQ+ rainbow coloured flag is soon going to be commercially phased out, pacifying any authenticity, and instead just representing 'being nice.'
There's presumably more market for being 'nice' than being lesbian, gay, bi, trans, queer or otherwise.
Which leads me full circle… these people need to be represented!
About me:
This is the part of my blog where the use of the LGBTQ+ Pride flag in my artwork may be very much in the spotlight 😊
I'm an artist, I've recently become self-employed, and I've started a (very very) small business.
I've recently created a 9-part illustrative series titled 'Bi in the 2000s™' which explores themes around LGBTQ+ and bisexuality visibility (I identify as bisexual, so some of the content is aimed at bisexuality specifically, but the majority of the paintings cover broader LGBTQ+ themes around representation and the impact of censorship, growing up in the UK as a teenager and young adult, in the 2000s).
Still interested? I think you're going to be excited by the next piece of information 😊
I've recently launched an organic cotton Bi in the 2000s™ merchandise series, which include digital prints of the original artwork that I created, from the series.
I created this series and this merchandise range because I think it's important to create representation, in this instance, specifically from the point of view of someone that's female and someone that's bisexual. This in part because I felt, first-hand, what it felt like to not see anyone that was female and bisexual in the culture around me, growing up at the time, and it genuinely did have a huge impact on how I felt about myself from teenage years, and actually into adulthood. Creating this art is one way that I've addressed this issue.
In the 'Who do I sit with' painting in particular, I've also tried to include a broad range of intersectional identities, within the LGBTQ+ community, and I think more could always be done around this. Growing up at the time, a lot of my peers were predominantly 'white' and predominantly 'able-bodied,' but I wanted the painting to be as diverse as possible, so that's why I've included members of the BAME and wheel-chair users community in the image.
The paintings represent my own journey, but the topics covered I hope will resonate with many.
On every item page on my online store, you can also find a 'donate with PayPal' button that will take you to a separate PayPal transaction page (separate to the transaction on your shop cart) that will allow you to donate £2 to LGBTQ+ charity Stonewall.
I've kept this donation separate from the main shop transaction for 2 main reasons:
It's a voluntary donation. Not everyone has the cash to donate to charity, some may already be donating to this charity or something similar, and I wanted to give everyone the choice.
It's straightforward. You can select gift aid using PayPal, and you can be sure that every penny donated goes to the charity – as a small business owner, it's a lot easier to do the finances this way.
In the future, as my business grows, I would always consider donating a percentage of my profits to charitable causes, but while my business is small and in its relative infancy, this just isn't possible at the moment, and I feel confident that the 'Donate with PayPal button' on my website is the obvious solution in the meantime.
Promoting charity has always been a major drive in what I'm doing, and always will be.
You can check out the Bi in the 2000s™ merchandise available here: anna-frances.com/shop
You can also find me on other platforms here, for more LGBTQ+, dance, music and wellbeing content:
Instagram: @annafranceshealing
Twitter: @annafranhealing
YouTube: Anna Frances Healing